Visitas y museo
Cultural tours
This tour helps visitors to learn and understand the technology of the aeronautic world, the history of the airports and air transport and its plans for the future.
Who are they for?
Nursery school, primary school, secondary school and college students.
Groups made up of the students of a class (General visits 30 students, visits to the Museum 40 students).
Each school may request 2 visits per year.
What can I visit?
General Visit Program "Come to know the Airport"
Visit to the National Museum of Airports and Air Transport
Contact information
For more information and reservations you can send an email to: visitas.escolares.agp@aena.es

Opening of the booking calendar on September 25, 2023
National Museum of Airports and Air Transport
The museum was opened more than 20 years ago to look after historical airport heritage. It displays exhibits from numerous Aena airports, from Melilla to Huesca.
During these 20 years, we have had time to see how visitors who came to us as schoolchildren have become aeronautical engineers, flight crew, lecturers in the field, etc. Because this museum creates aeronautical vocations and provides airports with professionals who love their work.
We offer a museum that houses all of the aeronautical professions in their original buildings, in their historic and contemporary setting. Describing the daily work of those who make it possible for all of the technology to function.

We invite visitors to get involved. They may be asked to take apart the mechanism of an aeroplane battery, to feel like a passenger from the 1950s, to open a black box or to listen to the conversations and look at the radar, in real time, of the local air traffic control centre. They will be made to feel like they are inside the machinery that allows the airport complex to operate.
Our 10 aircraft are one of our great attractions. Many visitors are impressed by the mere sight of a DC3 or a Convair 440 plane close up. Just like the plane that brought tourism to the Costa del Sol. And even more so when they are able to go inside. And even more so when, on special days, they are able to sit in the cockpit, at the controls of a plane that is nearly half a century old. Or be trained as a pilot for a few minutes in our flight simulators. Or when an aircraft captain with more than 40 years' experience tells them about their profession in such detail that anyone listening would lose their fear of flying.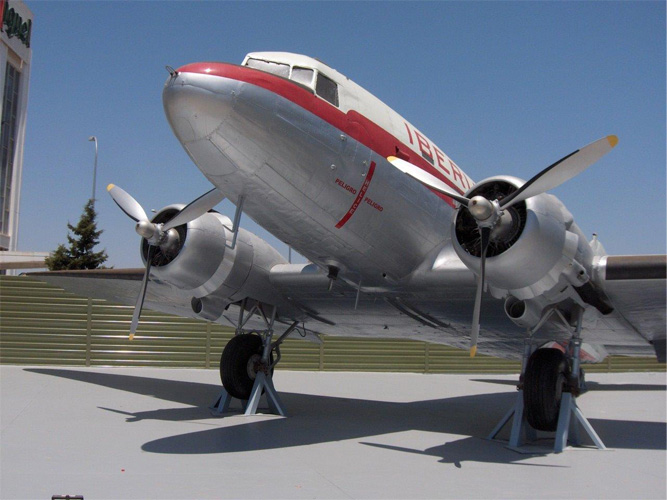 After 20 years of receiving schoolchildren, the Malaga Airport, Navigation and Air Transport Museum is now found on almost all social network pages for places considered suitable for family visits. In 2022, we were given 4.8 stars on Google, making us the highest-scoring museum in Malaga to date.
The museum is located at the southern end of the airport grounds, next to the old access road leading to the Costa del Sol. It is made up of four buildings. Two of them are historic buildings and the other two are recently built, increasing the exhibition space since 2010.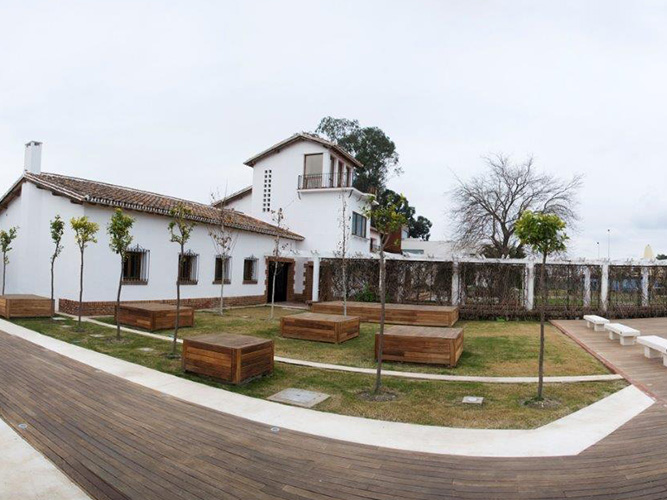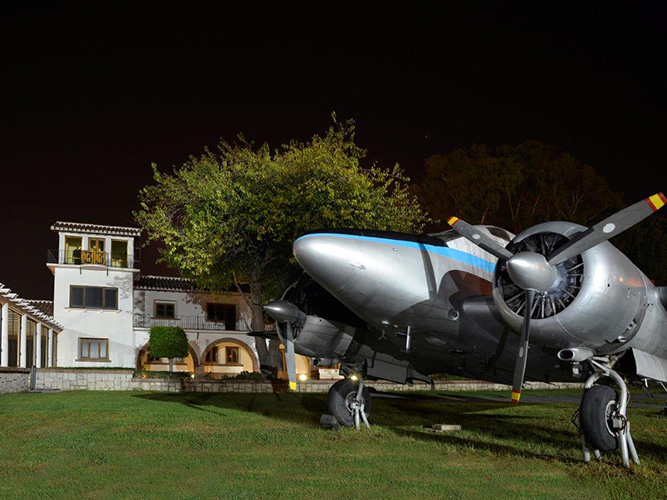 The technology building includes radars, communications, runway lights, meteorology and classic airport vehicles. And aeroplane engines, notably a Rolls-Royce Trent 900 turbine, one of those used in the first Airbus 380 prototype, considered to be the world's largest commercial aircraft.
The technology is explained by playing, with more than 20 interactive activities. So that visitors can light up a helicopter. So they can load and balance a plane. So they can raise a wheel of the landing gear, using just their own strength. So they can send a message in Morse code. In total there are 20 interactive games.
In addition, there are various areas for observing the current airport, with views both of the start of the aircraft runway and of the neighbouring military airbase. Superb views in an exhibition space that changes every day. And which allows visitors to see, at a single glance, both aviation from the 1950s and pure contemporary technology.
And then there is the wave of nostalgia usually brought on by the Luis Gutiérrez Soto 1948 aviation terminal. The beginnings of Malaga International Airport. And where the Costa del Sol was born. In a historical recreation, the three floors of the terminal and its planes are in the same place as they were more than 70 years ago. There is no need for posters to imagine how those first passengers were attracted to our beaches.
To complete the exhibition, a fourth building offers an airlines room, with a collection of more than 300 models of aeroplanes and uniforms of different airlines.
And it is free. Something unusual among international aeronautical museums.
Go up a 1948 control tower that guided the first commercial planes in Malaga. Open a black box and feel its weight. Go through customs in our grandparents' time. Move a propeller Learn about the beginnings of air tourism on the Costa del Sol. Go on board a plane from before the digital era. Find out where the firefighting service works. Compare our 10 aircraft. More than 5,000 square metres of aeronautics within your grasp.
What our visitors say about us
"It makes you want to work with the museum!"
Daniel, 5 years old
"After years memorising mathematical formulas, at last I've been able to touch the planes and engines I studied."
Patricia, engineering student
"We recover parts that look like scrap and now they take pride of place."
Jordi, friend of the museum
"I wasn't expecting such a big museum. My son has kept his pilot badge on all night."
Mercedes, teacher
"I enjoyed seeing the joy and passion of the restorers so much that I joined them."
José, friend of the museum
"The most enjoyable way to get rid of my fear of flying. It's hard to believe that a museum like this is free."
Juan Antonio, chef
Practical information
Both entry to the museum and the internal car park, exclusively for visitors, are free.
Prior booking is not required. You are welcome during our usual opening hours.
The tour is self-guided. If you visiting as a group and would like a guided tour, you can check availability by emailing: visitas.escolares.agp@aena.es
The average duration of a complete tour of the museum is usually around 90 minutes.
We offer a rest area, with views of the planes, where visitors can consume food and drink which they have brought with them.
How to get there
By car: Head towards the airport on the MA-21 and take exit 3. Keeping the San Miguel factory on your left, you will arrive at the first roundabout. Take the third exit, following the signs 'Aviación General/Museo' all the way to the end, always keeping the San Miguel factory on your left.
By bus: Take the special EMT line A municipal bus towards the airport and get off at the last stop. From that stop, you have to walk for about 20 minutes.
By train: Take the Cercanías (suburban train) line C1 towards the airport and get off at Aeropuerto station. From that stop, you have to walk for about 20 minutes.
Opening times
Tuesday: 10:00 to 20:00.
Wednesday to Saturday: 10:00 to 14:00.

The museum will be open, during its usual opening times, on all public holidays, except for 1 and 6 January and 24, 25 and 31 December.
For further information and bookings, you can send an e-mail to: visitas.escolares.agp@aena.es
If you want to collaborate with the Association of Friends of the Museum, you can learn more about them at this link, puede conocer más sobre ellos en este enlace www.aeromuseo.org