Adolfo Suárez Madrid-Barajas Airport Presentation
Adolfo Suárez Madrid-Barajas Airport is one of the main points of entry for tourists to Spain. A short distance from the city centre, it is a key element of our tourist industry as it is convenient and saves passengers time and money in transport. Madrid-Barajas plays a very important role in the economies of Madrid and Spain as a whole, driving the regional economy and fostering business growth and tourism.
The airport has been consolidated as a hub airport where airlines can increase connectivity between Latin American, domestic and European markets. Making it a true bridge between Europe and Latin America. Adolfo Suárez Madrid-Barajas is now a symbol of modernity and progress, securing its position of leadership among the world's leading airports.
Its innovative and attractive facilities, equipped with the latest technology to offer passengers greater mobility, efficiency and speed, with modern baggage handling systems, shopping areas and the expansion of the airfield make Madrid one of the airport capitals of the 21st century.
50,633,652
passengers in 2022
351,906
operations in 2022
566,373
tonnes of cargo in 2022
Recognition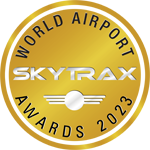 Skytrax Awards
10th Best Airport in the World, 2nd Best Airport in Southern Europe, 3rd Best Airport between 50-60 million passengers in the world and 5th Best Airport in Europe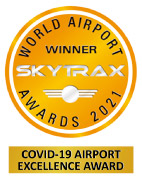 Skytrax Awards
COVID-19 Airport Excellence Awards 2021.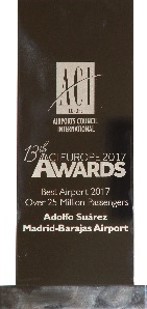 ACI Awards
Best Airport in Europe with more than 25 million passengers 2008 and 2017.
Skytrax Awards
Best Airport in the south of Europe at the World Airport Awards in 2015, 2017, 2019 and 2020.
CAPA Awards
International Airport of the Year 2014 in the over 25 million passengers category.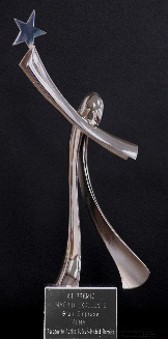 Fundación Madrid por la Excelencia Awards
Madrid Excelente for Customer Confidence 2018.
European Foundation for Quality Management
EFQM 500 Seal of Excellence (2015, 2017 and 2019).

Madrid Excelente
Madrid Excelente quality mark (Madrid Autonomous Community) 2017 and 2020.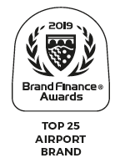 Brand Finance Awards
Top 25 Airport Brand in 2019.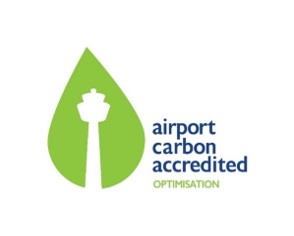 ACI
Airport Carbon Accreditation programme certification (2012, 2017 and 2021).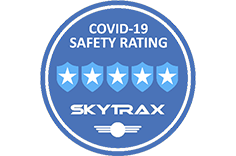 Skytrax 5-Star Rating
Covid-19 Safety Ratings programme 2021