Tenerife Norte-Ciudad de La Laguna Airport Introduction
Located to the north of the Island, in the municipality of San Cristobal de la Laguna, the airport is just 10 kilometres from the capital (Santa Cruz de Tenerife).
Most traffic is scheduled domestic flights, around 48% of which are connecting flights to the other islands in the archipelago: Gran Canaria, La Palma, Lanzarote, Fuerteventura, El Hierro and La Gomera. There are also regular domestic flights to other Spanish airports. The most important destination is Madrid with more than a million passengers, followed by Barcelona, Seville, and Bilbao.
5,566,245
passengers in 2022
68,988
operations in 2022
13,166
tonnes of goods in 2022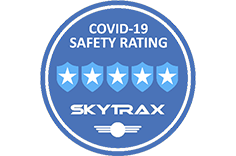 Skytrax 5-Star Rating
Covid-19 Safety Ratings programme 2021