Presentation Palma de Mallorca airport
Palma de Mallorca Airport, located 8 km from the city, is the gateway for the millions of tourists who visit the island.
Airport traffic is primarily international and reaches its greatest levels during the summer season. There are also numerous connections to the mainland.
Its most important connections are to Barcelona, Madrid-Barajas, Dusseldorf and Frankfurt. By nationality, Germany accounts for the largest number of passengers, followed by Spain and the United Kingdom.
14,497,159
passengers in 2021
141,197
operations in 2021
6,755
tonnes of cargo in 2021
Recognition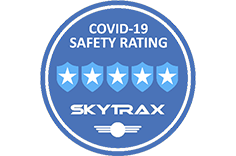 Skytrax 5-Star Rating
"Covid-19 Safety Ratings" programme 2021